BLOOMINGTON, Ind. - NASA's Carbon Monitoring System Program has awarded a three-year, $950,000 grant to a research team at the Paul H. O'Neill School of Public and Environmental Affairs. The funding will propel innovative research into Nature-based Climate Solutions (NbCS) focusing on enhancing the precision of carbon sequestration estimates and bolstering our strategies to combat climate change.
Encompassing strategies such as natural reforestation and restorative agriculture, NbCS aim to enhance the already significant amount of carbon sequestered by terrestrial ecosystems. Assistant Professor Mallory Barnes and Professor Kim Novick are set to quantify the potential of nature-based strategies to combat climate change.
"These solutions can only reduce carbon dioxide levels in the atmosphere meaningully if we can estimate their carbon benefits accurately, especially since these benefits must surpass the 'business-as-usual' baseline," said Barnes, who is the principal investigator on the project.
In particular, the Eastern United States holds significant potential for these strategies because of its productive and biodiverse forests supplied by ample moisture. These forests not only reduce atmospheric carbon dioxide but also offer valuable ecosystem services, including flood risk reduction, wildlife habitat protection, and improved water quality.
Crucially, the effectiveness of these solutions hinges on the accuracy of carbon sequestration estimates, a challenge that Barnes and Novick are tackling head-on. The researchers are pioneering the development of an adaptive baseline model for carbon benefit estimates.
"Our dynamic baselines adapt to changes in the environment, which lets us calculate carbon benefits accurately at any given time," Barnes said. "This is essential to make sure that forest-based climate solutions are taking additional carbon out of the atmosphere."
The proposal is titled "Better Data, Better Decisions: New Approaches for Robust and Credible Carbon Monitoring and Accounting in Eastern US Forests."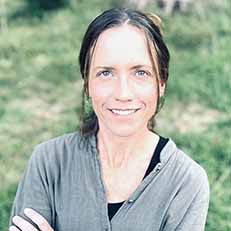 "Over the past couple of years, we have been working with a diverse coalition of scientists and practitioners to identify the scientific tools needed for robust and credible nature-based climate solutions," said Novick (pictured), who is co-investigator. "With support from this proposal, we can put those ideas into action by developing the nation's first dynamic forest carbon uptake baseline product."
The project involves creating data-driven maps of forest carbon uptake by merging satellite remote sensing observations, ecosystem measurements of carbon exchange between the land and the atmosphere, and forest inventory data using cutting-edge machine learning algorithms.
"These dynamic, annually updated maps will provide standardized and reliable baselines for NbCS projects," Barnes said. "They will contribute to both jurisdictional greenhouse gas inventories and enable more robust quantification of the additional climate benefits of individual projects."
Although NbCS play an important role in meeting climate targets, Barnes and Novick stress that the long-term solution to climate change necessitates a drastic reduction in fossil fuel emissions. Still, they believe improving our understanding and implementation of NbCS could be transformative.
With NASA's backing, the team is poised to push the boundaries of our knowledge and forge a resilient path against climate change. This project underscores the potential of NbCS to promote a more sustainable and healthier world.
"We hope to have a lasting impact on the development and implementation of robust, scalable, and credible nature-based climate solutions," Barnes said. "The Eastern United States forests are the nation's largest terrestrial carbon sink poised to significantly contribute to climate mitigation efforts in the coming years."