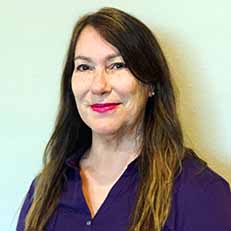 Email:

dkdiorio@indiana.edu
Areas of Interest:

Healthcare for vulnerable populations
Public health management and policy
STD/HIV
SPEA 412

Education
MPA, O'Neill, Indiana University
B.A., Social Welfare, University of Southern Maine
Courses
SPEA H549, Health Policy, 2023
SPEA H342, Community Health Education, 2012-17
SPEA H322 Principles of Epidemiology, 2012-Present
SPEA H124 Introduction to the US Healthcare System, 2014-Present
SPH E311, Introduction to Epidemiology, 2011-19
SPH E350 Infectious Disease Outbreak investigation, 2018-Present
Biography
Dawne DiOrio is a retired public health advisor with the Centers for Disease Control and Prevention (CDC)* in the Division of Sexually Transmitted Disease Prevention. In her 21 years of federal service she was assigned to assist the state of New Jersey, the city of Chicago, and the state of Indiana with their respective STD/HIV programs. She was deployed on several national outbreak investigation teams including measles in New York (2019) for which she received the CDC, NCIRD, Toby Merlin Group Award for Excellence in Emergency Response, 2019; Covid-19 Vaccine Task Force (2021); and Covid-19 Case Investigation and Contact Tracing Team (2020-22). Prior to joining the CDC, she was employed as a public health professional for county, city, state, and nonprofit public health agencies in Maine, with a focus on program planning, implementation, management, policy formulation, and program evaluation.
She received her B.A., cum laude in Social Welfare, from the University of Southern Maine, and her M.P.A. from the O'Neill School with a dual concentration in Policy Analysis and Public Management. She is Certified in Public Health by the Board of Public Health Examiners. Ms. DiOrio serves as a member of the Monroe County (Ind.) Board of Health.
Note: Ms. DiOrio teaches in a private capacity and endorsement by CDC should not be inferred.
Highlights
Public Health Advisor, Centers for Disease Control and Prevention, National Center for HIV/AIDS, Viral Hepatitis, STD, and TB Prevention, 2001-present
Maine Department of Human Services, Bureau of Health, Augusta, Maine, Health Program Manager, Sexually Transmitted Disease and HIV Counseling & Testing, 1989-1996
Member, Monroe County Community School Corporation, Comprehensive Health Issues Committee
Past Member, Monroe County, Indiana Board of Health
Member, CDC External Work group to revise Partner Services Program guidelines, 2007
Indiana University, O'Neill School of Public & Environmental Affairs, Jessie Devitte Scholarship Award, 2001
Public Employees Roundtable Scholarship, Washington, D.C., 2000-01
Selected Works
"Ending the HIV Epidemic: Contributions Resulting from Syphilis Partner Services," (with D. Collins, and S. Hanley), Sexually Transmitted Diseases (2020)
"Social Vulnerability in Congenital Syphilis Case Mothers: Qualitative Assessment of Cases in Indiana, 2014-2016" (with K. Kroeger, A. Ross), Sexually Transmitted Diseases  (4 January 2018)
"Ocular Syphilis — Eight Jurisdictions, United States, 2014–2015," (with S.E. Oliver,  M. Aubin, L. Atwell, J. Matthias, A. Cope,  V. Mobley, A. Goode, S. Minnerly, J. Stoltey, H. M. Bauer, R. Hennessy, R. Neblett Fanfair, T. A. Peterman, and L. Markowitz), Centers for Disease Control and Prevention: Morbidity and Mortality Weekly Report, 65(43);1185–1188 (November 4, 2016)
"How One State Has Operationalized Program Collaboration and Service Integration," CDC National STD Conference, 2010
"Tangled Up in the Web: Responding to Criminal Transmission of HIV Occurring on an Internet Sex Site," XVI International AIDS Conference, Toronto, Canada, 2006
"Syphilis Interviewing: Opportunity for Identification of Undiagnosed HIV Infection," Centers for Disease Control & Prevention National STD Prevention Conference, 2006
"We Can't Afford it, but Can We Afford Not to? Cost Effectiveness Analysis of Rapid HIV Test Implementation in an STD Clinic," Centers for Disease Control & Prevention National HIV Prevention Conference, 2005
"Assessment of Prenatal Syphilis Screening in a High Morbidity Area," Centers for Disease Control & Prevention National STD Conference, 2002
"Use of Street Intercept Interviews to Assess Most-At-Risk Populations Recall of a Multimedia Syphilis Elimination Campaign," Centers for Disease Control & Prevention National STD Conference, 2002
"Prevention Effectiveness Assessment of Hepatitis C Screening & Treatment for Injection Drug Users in a STD Clinic/HIV Counseling & Testing Setting," Centers for Disease Control & Prevention National HIV Prevention Conference, 2001
"Assessment of Cost Benefit and Prevention Effectiveness of HCV Screening & Treatment Program for Injection Drug Users," Centers for Disease Control & Prevention National STD Prevention Conference, 2000
Related Links