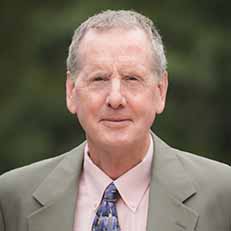 Phone:

(812) 855-0563

Email:

zorn@indiana.edu
Research areas:

Policy Analysis
Public Finance and Economics

Areas of Interest:

State and Local Finance
Transportation Safety
Economic Development
Gaming Policy
SPEA 459

Education
Ph.D. in Economics, Syracuse University, 1981
M.A. in Economics, Syracuse University, 1978
B.A. in Economics, State University of New York at Albany, 1976
Courses
Government Finance & Budgets
Public Management Economics
Public Finance and Budgeting
Urban Problems and Solutions
Biography
Acting Vice Provost for Undergraduate Education Kurt Zorn, is an economist and O'Neill professor who specializes in state and local public finance. Zorn's expertise covers tax policy, transportation safety, economic development, and gaming. Zorn has conducted research, consulted, and taught in the general area of tax policy and fiscal decentralization in international settings including Egypt, Bosnia-Herzegovina, the Russian Federation, China, Taiwan, and the United Arab Emirates. His work, spanning three decades and more than 60 articles and book chapters, has been published in journals including Public Budgeting & Finance, Economic Development Quarterly, Public Finance Quarterly, Growth and Change, Public Administration Review, and The Journal of the Transportation Research Forum. Zorn is co-author of the book Why Airplanes Crash: Aviation Safety in a Changing World published by the Oxford University Press.
Zorn joined Indiana University in August of 1980. In addition to his academic duties, he served as faculty athletics representative to the Big Ten and the NCAA for more than a decade. Other posts at IU have included serving as director of state relations, advisor to the president, and interim dean and associate dean for academic and fiscal affairs at O'Neill.
Zorn is president of the City of Bloomington Economic Development Commission and a member of the Indiana Finance Authority. In the late 1990s, Zorn served as chair of the Citizens' Commission on Taxes, created by Indiana Governor Frank O'Bannon to formulate recommendations for improving the state and local tax system in Indiana. He has also served as chairman of the Indiana State Board of Tax Commissioners, as well as consultant to the State of Indiana, Indiana Infrastructure Inc., U.S. Department of Commerce, U.S. Department of Transportation, and the President's Commission on Aviation Safety.
Highlights
Faculty Associate, Peking University-Lincoln Institute Center for Urban Development and Land Policy, Beijing, China
Director of State Relations, Indiana University
Chairperson, Citizen's Commission on Taxes, State of Indiana
2002-2003 Gordon Faculty Award, Indiana University Division of Student Affairs
In the News
"StarWatch Investigation: State Paid Twice What Some I-69 Land Was Worth" - Indianapolis Star, February 2, 2013
"Did I-69 Pace Drive Up Cost?" - Journal Gazette, November 14, 2012
"Indiana Basketball: Incoming Recruit Ron Patterson Denied Admission Because of Academics," - Indianapolis Star, August 15, 2012
Selected Works
"Aviation Safety in the Age of Liberalization," (with C.V. Oster, J.S. Strong), chapter in Aviation Safety in the Age of Liberalization, Edward Elgar Publisher, (2017)
"Analyzing aviation safety: Problems, challenges, opportunities," (with C. V. Oster and J. S. Strong), Research in Transportation Economics, 43 (1), (2013)
"Establishing a Tax Rate," A Primer on Property Tax: Administration and Policy, G. C. Cornia, W. J. McCluskey, and L.C. Walters, Eds.). Oxford, England: Blackwell Publishing Ltd. (2013)
"The price tag of economic development incentives: Is it too small for citizens to care?"(with E. Dalehite and J. L. Mikesell), Journal of Public Budgeting, Accounting, & Financial Management,20 (2), (2008)
"Cadastral Valuation for the Land Tax in the Russian Federation: The New Market-Informed Valuation System," (with O. Krupa and J. L. Mikesell), Journal of Property Tax Assessment & Administration, 4 (3): 13-22 (2007)
"The evolution of the state and local government municipal debt market over the past quarter century," (with W. B. Hildreth), Public Budgeting & Finance Silver Anniversary Issue, 25 (S1): 127-153 (2005)
"Is activity-based costing up to the challenge when it comes to privatization of local government services?"Public Budgeting & Finance, 19: 37-58 (1999)
Why Airplanes Crash: Aviation Safety in a Changing World, (with Clinton V. Oster, Jr., and John Strong), New York: Oxford Press (1992)