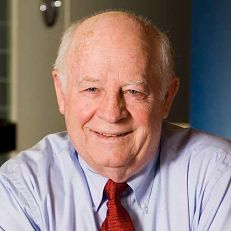 Email:

opowell@indiana.edu
Research areas:

Public Management

Areas of Interest:

Local government and the United States Constitution
Education
M.P.A., Pennsylvania State University, 1963
B.A., Earlham College, 1961
Courses
Urban Problems and Solutions
Biography
Orville Powell's career in local government and as an expert of the United States Constitution spans more than 50 years. He has served as a consultant to local governments in Russia, Bulgaria, India, and Swaziland. Powell was city manager for a total of 25 years in Winston-Salem, North Carolina; Durham, North Carolina; and Gainesville, Florida. The City of Gainesville designated "Orville Powell Day" in 1983 and the NAACP chapter in Gainesville bestowed him with the "Man of the Year" award in 1982.

Powell joined the O'Neill faculty more than 15 years ago and has earned several teaching awards including the Trustees Teaching award, the Student Choice Award, the Graduate Teaching Award, and the Undergraduate Teaching Award three times.

Powell has served as executive director of the Indiana Association of Municipal Managers (IMMA) and currently is senior advisor for city managers in Indiana and Kentucky as part of the International City-County Management Association.
Highlights
Inaugural Recipient of (2015) Orville Powell Inspiration Award, O'Neill Student Choice Awards
Undergraduate Teaching award, 2009, 2006, 2003, Indiana University
Trustees Teaching Award, 2008, Indiana University
International City/County Management Association Academic Award, 2003
City of Gainesville, Florida: "Orville Powell Day" 1983
"Orville W. Powell Club House" named by the City of Winston-Salem for new golf course club house
Selected Works
Trouble Came Calling, A Novel, Bloomington, IN: AuthorHouse (2009)
Earth Is A Nice Little Planet: Who Will Save It? (with C. Park). Bloomington, IN: AuthorHouse (2007)
City Management: Keys to Success. Bloomington, IN: AuthorHouse (2004). (Peking University Press purchased the rights to publish this book in China in 2006.)