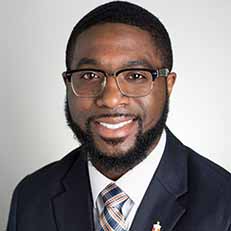 Email:

br36@indiana.edu
Areas of Interest:

Diversity, equity, and inclusion
Leadership development
Manhood and masculinities
Student development
Mentorship
SPEA 412

Education
M.S. in Kinesiology, Southern Illinois University Edwardsville, 2013
B.S., Culver-Stockton College, 2011
Courses
M652 Managing Workplace Diversity
Biography
Professor Brian Richardson Jr. was the former director for diversity, equity, and inclusion at the O'Neill School, where he is also an adjunct professor.
As diversity officer, Richardson has worked on a grant to provide cultural competency training throughout the state of Indiana, focusing on confronting acts of bias and discrimination for healthcare professionals and early childhood practitioners. He has also strategically implemented cultural competency trainings for faculty, staff, students, and community partners.
Richardson has been honored at the national, state, and local level for his commitment to diversity and to creating change. In 2019, he received the Power of the Future Award from the Forum on Workplace Inclusion.
He has also held a variety of leadership positions in higher education and in the community. Richardson is the former co-chair for the NASPA Region IV East African American Knowledge Community for the state of Indiana. At IU, he is the vice chairperson for the Black Faculty and Staff Caucus. Locally, he served as the former vice chairperson on the Commission for the Status of Black Males through the Office of the Mayor. In 2016, he created Krimson Leadership Academy, a mentoring academy for fourth through sixth grade boys.
Richardson's work has been featured in TEDx, the Big Ten Network, and local media.
After completing his undergraduate education at Culver Stockton College, Richardson earned a Master of Science in Education from Southern Illinois University Edwardsville. He is currently pursuing a Ph.D. in Higher Education and Student Affairs at Indiana University.
Highlights
Forum on Workplace Inclusion's Power of the Future Award (2019)
NASPA IV East Outstanding Mid-Level Student Affairs Professional Award (2019)
City of Bloomington Chamber of Commerce 10 Under 40 (2018)
NASPA Now Emerging Leader for Inclusion Award (2018)
NASPA MMKC On Campus Service Award (2018)
IU MLK Day Building Bridges Award (2018)
City of Bloomington Outstanding Black Male Leader of Tomorrow (2017)
Vice Chairman for the City of Bloomington Commission on the Status of Black Males
NSAPA Region IV East Representative for MMKC (2016-17)
Lillian C. Franklin Diversity Award (2016)
In the News
Select Presentations
NCORE Webinar: Creating a Reactionary Programming Toolkit (January 2020)
The Black Athlete Summit: Impact of Diversity and Inclusion in Sport Management (January 2020)
The American Association for Blacks in Higher Education. Four sessions. (March 2019)

Transformational vs. Cosmetic Change
Support Black Women in the Workplace and Mentorship
Integrating Restorative Justice and Diversity, Equity, and Inclusion
Panel Discussion on the Journey of Black Males Pursing Terminal Degrees while Working Fulltime in Higher Education

NCORE Mini Institute: Creating a Reactionary Programming Toolkit (May 2018)
NASPA Well-being and Health Promotion Leadership Conference: Health and Well-being Initiatives for Men of Color (January 2018)
The Black Brown and College Bound Summit: Creating Minority Mentoring Programs (February 2017)
City of Bloomington Panel Discussion: The Barriers to Accessing Care in the African American Community (February 2017)
NASPA IV East Regional Conference: Race and Leadership (November 2015)
Related Links