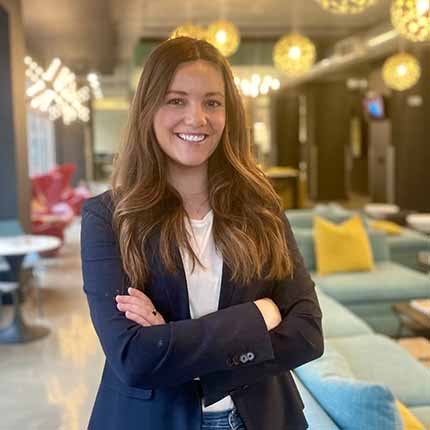 My interest in earning an MSHM degree started my freshman year of college and never left my thoughts when deciding my future plans. I wanted to get a master's degree in healthcare because it was my undergraduate major at Indiana University and knew furthering my education would assist me in my future career. When the MSHM was created during my undergrad, I knew I wanted to continue my education through IU and O'Neill. I already had such an amazing experience with courses and professors for my healthcare management degree, that I knew the MSHM was the perfect fit for me.
I completed my practicum at Cardiovascular Systems, Inc. as a healthcare economics and reimbursement intern. While being a remote intern at CSI, I analyzed, interpreted, and translated health system operating and Medicare claims data into a sales and marketing tool that reinforced the value proposition of CSI coronary technology to executives and physicians involved in hospital purchasing decisions.
With having a program both fully supported by Kelley and O'Neill, I was able to develop my analytical and business skills while learning how healthcare fits into it and how important it is to continue to develop your emotional intelligence. Healthcare is an industry that is always evolving and learning how to adapt in ways we didn't know were possible. Being a leader in the healthcare industry is something I have always strived for and felt very supported by the MSHM program during it and still to this day after graduation.
I graduated in May 2021 from the MSHM program at Indiana University and I am now in the health insurance industry. I went through an intensive 12-week leadership program called the Network Academy for Cigna and am now a provider contractor senior analyst (contract manager) in Kansas City. With this role, I am supporting strategic positioning for provider contracting, assisting in the development of our commercial and Medicare Advantage networks, and help to identify opportunities for greater value orientation for our members