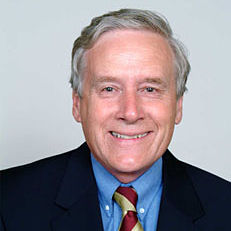 Email:

wise@indiana.edu
Areas of Interest:

Public law
Public organization design
Intergovernmental relations
Democratization in Ukraine
Education
Ph.D., Indiana University, 1972
M.A., Indiana University, 1970
B.A., Arizona State University, 1967
Biography
Dr. Charles R. Wise joined the Indiana University Office of President John W. Ryan as his administrative assistant where he was tasked with launching O'Neill, following the approval of the School by the Indiana University Board of Trustees. O'Neill was founded in 1972.
He was the first faculty member, joining O'Neill as an assistant professor. He served O'Neill for 34 years in several capacities including assisting in the formation of O'Neill; securing Indiana Commission on Higher Education approval for the new school; as associate dean; as director of Graduate Programs in Public Affairs, and director of Undergraduate Programs in Public Affairs. After retiring from IU in 2001, he served as the founding director of the John Glenn School of Public Affairs at The Ohio State University.
Beginning at IU and then continuing at OSU, Professor Emeritus Wise served as the director of the Parliamentary Development Project for Ukraine for 19 years, a program designed to help develop democracy in the Parliament of Ukraine, funded by the United States Agency for International Development. He is a recognized expert in public management, public organizations, and public law, presenting at conferences and for leaders around the world.
He is the author of two books and more than 68 journal articles and book chapters. He served as the managing editor of the Public Administration Review.
Dr. Wise held high-level positions for the U.S government in the Department of Justice including Special Assistant for Policy Analysis in the Office of Legislative and Intergovernmental Affairs, and Director of Intergovernmental Affairs.
He was elected a Fellow of the National Academy of Public Administration in 1998. He received the William E. Mosher Award for Best Academic Articles in 1985, 1992, 1993, the only scholar to have received the award three times. He was awarded the Trustees Teaching Award at Indiana University and the Donald C. Stone Award for Scholarship in Intergovernmental Administration and Management, by the American Society for Public Administration.
Highlights
First faculty member at O'Neill and instrumental in launching the School
Director of the Parliamentary Development Project for Ukraine for 19 years
Fellow of the National Academy of Public Administration (1998)
William E. Mosher Award for Best Academic Article (1985,1992,1993)
Selected Works
"Organizing for homeland security after Katrina: Is adaptive management what's missing?" Public Administration Review, 66 (3): 302-318 (2006)
"A full and fair capacity: Federal courts managing state programs," (with R. K. Christensen), Administration and Society, 37(5), 576-610 (2005)
"The Ukrainian orange revolution brought more than a new president: What kind of democracy will the institutional changes bring?" (with R. K. Christensen, and E. Rakhimkulov), Communist and Post-Communist Studies, 38 (2): 207-230 (2005)
"Property rights, regulatory takings, and environmental policy," Environmental Governance Reconsidered: Challenges, Choices, and Opportunities (R. Durant, R D. Fiorino, and O'Leary (Eds.). Cambridge, MA: MIT Press (2004)
"Constitutional courts and legislative-executive relations: The case of Ukraine," (with T. Brown), Political Science Quarterly, 119(1):143-169 (2004)
"Breaking up is hard to do: The dissolution of judicial supervision of public services," (with R. O'Leary), Public Administration Review, 63(2): 177-191 (2003)
"When things go wrong," (with L. Bingham, B. Clemow, and S. Murray), in Human Resource Management in Local Government  2nd edition (Siegren Fox Freyss (Ed.). Washington, D.C.: International City Management Association, (2004)