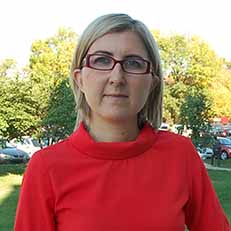 Phone:

(812) 855-1005

Email:

mvenier@indiana.edu
Research areas:

Atmospheric Chemistry
Environmental Toxicology and Chemistry

Areas of Interest:

Persistent Organic Pollutants (POPs)
Great Lakes
MSBII 324

Education
Ph.D., Indiana University O'Neill School of Public and Environmental Affairs, 2008
Laurea in Chemistry, University of Trieste, Italy, 2002
Courses
E-183 Environment and People
E-537 Environmental Chemistry Laboratory
Biography
Dr. Marta Venier is an environmental chemist who studies the fate, transport, and behavior of persistent organic pollutants in the indoor and outdoor environment, including both legacy and emerging pollutants. She is particularly interested in persistent organic pollutants (POPs) like polychlorinated biphenyls (PCBs), organochlorine pesticides, perfluorinated compounds (PFAS), and flame retardants, both brominated and organophosphate esters.
Her laboratory employs analytical chemistry and mass spectrometry techniques to provide analyses of POPs and organic toxic chemicals in indoor/outdoor air, water, sediments, soil, biological samples (i.e. serum, urine, feces) and consumer products.
Since November 2019, she has been leading the Integrated Atmospheric Deposition Network (IADN), a monitoring program funded by the U.S. Environmental Protection Agency. IADN measures concentrations of persistent toxic chemicals in air and precipitation at five stations on each of the Great Lakes. The main objectives of IADN are to determine spatial and temporal trends of toxic chemicals, identify point or regional sources of toxic chemicals, and discover emerging chemical threats to the Great Lakes.
Born and raised in Trieste, Italy, where she earned her laurea degree, Venier arrived in Bloomington in 2004 to pursue her Ph.D. in environmental science. After completing her doctorate, Venier continued working in O'Neill professor Ron Hites's laboratory, first as a postdoctoral associate and then as assistant scientist. In 2019, she was promoted to associate scientist.
Venier and her group have been published in highly ranked peer-reviewed journals like Environmental Science and Technology and Environment International. Her research has garnered national and international attention.
Highlights
Integrated Atmospheric Deposition Network (IADN) award, EPA, PI, $6M, 2019-24
"Chemical Evaluations of Great Lakes Fish-eating Birds in Michigan's Areas of Concern". US Fish and Wildlife Services. Funding period: 08/01/2021-07/31/2022. Total awarded: $ 193,615. Role: Principal Investigator.