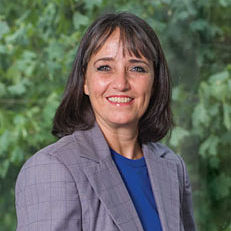 Phone:

(812) 855-2844

Email:

ckhughes@indiana.edu
Areas of Interest:

Human resource management/training and development
SPEA 335

Education
M.B.A., Human Resource Management, Indiana Wesleyan University, 2002
B. S., Business Administration, Indiana Wesleyan University, 1999
Courses
Diversity
Human Resource Management in the Public Sector
Management Concepts and Applications I and II in Public and Private Organizations
Organizational Behavior
Public Human Resource Management
Recruitment and Talent Acquisition
Biography
Cheryl Hughes specializes in human resource management in the for-profit and nonprofit sectors. She joined O'Neill as an adjunct professor in 2009. She serves as faculty advisor of the IU student chapter of the Human Resources Association. Hughes also provides career transition services through one-on-one coaching and group workshops.

Hughes's areas of expertise include talent management, organizational development, training and development, talent acquisition, and leadership and management coaching. She has more than 18 years of human resource and managerial experience, including work for the greater Bloomington Chamber of Commerce, Baxter Pharmaceutical Solutions, and CACI, a professional services and information technology company that supports branches of the U.S. government that include defense, homeland security, intelligence, and healthcare.

As a lecturer, Hughes has garnered three teaching awards at IU: the Trustees Teaching Award, the Dean's Most Influential Professor Award, and the O'Neill Teaching Award.
Highlights
Indiana State Council of the Society for Human Resource Management board member (2017-19)
2015 Volunteer Leader of the Year, Indiana State Council of the Society for Human Resource Management
Inaugural Recipient of (2015) Beyond SPEA Award, O'Neill Student Choice Awards
The National Society of Leadership and Success Excellence in Teaching Award (2015) and inducted as an honorary member
Trustees Teaching Award, Indiana University (2013)
Dean's Most Influential Professor Award, Indiana University (2013)
O'Neill Teaching Award, Undergraduate Instruction (2012)
President, South Central Indiana Human Resources Association
Indiana University Diversity Committee and the Indiana University Mediation Committee