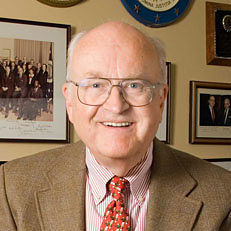 Areas of Interest:

Environmental Law
Domestic and International Environmental Policy
Ethics and the Public Official
Mediation and Alternative Dispute Resolution
Law and Public Policy
Education
J.D., (Cum Laude), Harvard University, 1967
B.A., (with High Honors), Michigan State University, 1964
Biography
Professor A. James Barnes is a nationally recognized expert in environmental law and policy and has served in several senior positions at the Environmental Protection Agency during his 19-year career in Washington, D.C. He is the co-author of two leading business law textbooks, one now in its 17th edition and another in its 13th edition. At the IU O'Neill School of Public and Environmental Affairs, where he served as dean from 1988-2000, and at the IU Maurer School of Law, Barnes teaches courses in environmental law, environmental policy, professional ethics, skills for professional practice, and law and public policy.

Professor Barnes has written, testified, and spoken extensively on environmental issues, consults on a variety of environmental matters, and mediates environmental disputes. He is a Fellow in the American College of Environmental Lawyers as well as a Fellow in the National Academy of Public Administration. He has been a member of nine National Academy panels that provided advice to Congress and federal agencies.

In 1970, Barnes participated in the formation of EPA, serving as chief of staff to the first administrator, William Ruckelshaus, and later as EPA general counsel and deputy administrator. He has also served as general counsel of the U.S. Department of Agriculture, and as a trial attorney and assistant to the deputy attorney general in the Department of Justice.

From 1992-98, he served on the Board of Directors of the Long Island Lighting Company, a NYSE listed company, was a member of and then chaired the EPA Environmental Finance Advisory Board (2003-10), was a member of the Department of Energy's Environmental Management Advisory Board (2005-11), and served on Truman Scholarship Selection Panels from 1992- 2008. He also was a trustee of the National Institute for Global Environmental change (1991-2006), which he helped found, as well as a Trustee of America's Clean Water Foundation (1996- 2006).
Highlights
Expert on environmental law and policy
U.S. Environmental Protection Agency - Deputy Administrator, General Counsel, Chief of Staff
Dean, IU O'Neill School of Public and Environmental Affairs
U.S. Department of Agriculture - General Counsel
In the News
"Pence family's failed gas stations cost taxpayers $20M" - Washington Post, July 13, 2018

Also appeared in the New York Times and more than 400 other publications

"Trump fires FBI Director Comey, national fights ensue" - IDS, August 23,2018
"Air Pollution: More legal battles likely after mercury rule survives attack" - Greenwire, December 15, 2015
"Controversial EPA plan presents opportunity for natural gas, renewables growth" - Chicago Tribune, August 12, 2015
"Indiana Continues to Take on EPA over Power Plant Rules" - The Indianapolis Star, August 24, 2014
"Indiana University Experts Comment on Climate Change," - IUB Newsroom, May 6, 2014
Selected Works
Law for Business, 13th edition, (with T.M. Dworkin and E. Richards). New York: McGraw-Hill/Irwin, (2017)
Business Law: The Ethical, Global and E-Commerce Environment, 17th edition (with A. Langvardt, et al.). New York: McGraw-Hill/Irwin (2013)
"Implementing presidential policy agendas administratively: A view from the inside,"Public Administrative Review, 69, 586 (2009)
"Independent Assessment of the Department of Defense (DoD) Review of Post-Employment Restrictions," Panel Report. Washington, DC: National Academy of Public Administration (2012)
"Department of Homeland Security Executive Staffing," Panel Report. Washington, DC: National Academy of Public Administration (2008)
"Review of the Wastewater Permit for the BP-Whiting Refinery on LakeMichigan," Expert Report (undertaken at the request of Governor Mitch Daniels) (2007)
"A Green Compass: Institutional Options for Developing a National System of Environmental Indicators," Panel Report. Washington, DC: National Academy of Public Administration Panel Report (2007)
"U.S. Corps of Engineers Priority-Setting for Water Resource Construction Projects," Panel Report. Washington, DC: National Academy of Public Administration (2007)