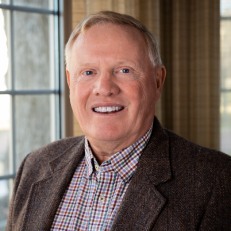 Phone:

(812) 345-9064

Email:

rupp@indiana.edu
Research areas:

Policy Analysis

Areas of Interest:

Energy Systems
Carbon Sequestration
Alternative Energy
Energy Policy
Education
M.S., Eastern Washington University, 1980
B.S., University of Cincinnati, 1978
Courses
V600 Capstone, Emerging Policy and Technology Advances on the Resiliency of Hoosier Energy: Assessment of Potential Impacts, Spring 2018
E515 Renewable and Nuclear Energy
E574 Energy Systems and Analysis, Fall 2014 - Present
V550 Energy Policy from a Nation State perspective, Fall 2014 - Present
E555 Natural Gas: Technical and Policy Challenges, Spring 2012 - Present
E555 Coal Utilization and Carbon Sequestration, Fall 2001 - Present
E272 Introduction to Environmental Science, Fall 2018 - Present
Biography
John Rupp is a clinical associate professor emeritus at the O'Neill School of Public and Environmental Affairs with experience in energy systems including fossil fuels, renewables, and transmission/distribution systems. His research lies in geological sequestration, unconventional oil and gas development, and public policy of energy development. He also serves as the associate director for science with the Center for Research in Energy and the Environment.
His teaching includes graduate courses in Renewable and Nuclear Energy Systems; Energy Systems and Analysis; Natural Gas: Technical and Policy Challenges; Global Energy Issues from an International Relations Perspective; and numerous Capstone courses. Capstones include work for the state public utility commission, energy think tanks, industry, and utilities.
Recent Capstones have included:
Enhanced Renewables in the State/RTO Nexus: A Heartland Case Study Renewable (2021)
Energy Policy Recommendations for the Indiana Utility Regulatory Commission: A Scenario Evaluation Approach (2020)
Hoosier Energy – Fully Charged: An Outlook of Influential Policies and Technologies for Energy Storage (2019)
Electrical Charging Infrastructure for Fleet Applications: Analysis of Policy Landscape (2019)
Emerging Policy and Technology Advances on the Resiliency of Hoosier Energy: Assessment of Potential Impacts (2018)
Clean Power Plan Compliance Options for Hoosier Energy (2016)
Challenges from Natural Gas Supply and Demand Growth in Transportation and Electrical Generation, Spring (2013)
Underground Coal Gasification (2012)
Previously, Rupp has been senior research scientist at the Indiana Geological Survey, a production geologist for Exxon Co. USA in Midland, Texas, an assistant geologist for Consolidated Resources of America in Cincinnati, Ohio, and a mineral exploration geologist with Salisbury & Dietz Co. in Spokane, Washington.
Highlights
Co-Author, Best Poster Presentation, Division of Environmental Geosciences, American Association of Petroleum Geologists, Eastern Section
Co-Author, Best Poster Presentation, Division of Environmental Geosciences, American Association of Petroleum Geologists, Eastern Section
Co-Author, Best Oral Presentation, American Association of Petroleum Geologists, Eastern Section
Best Poster, American Association of Petroleum Geologists, Eastern Section
Best Paper, American Association of Petroleum Geologists, Eastern Section
Grant in Aid, Indiana Academy of Sciences
Outstanding Employee of the Year, Indiana Geological Survey
Best Paper, Indiana Academy of Sciences
Selected Works
"22 Gigawatts of Offshore Wind by 2030: A Realistic Permitting Goal or an Empty Promise?" (with P. Chesnais, L. Brzuzy), Energy Perceptions, v. 2, i. 1, 1006 (2021)

"Lithium in the Green Energy Transition: The Quest for Both Sustainability and Security," (with J.D. Graham and E. Brungard), Sustainability, v. 13, 11274 (2021)

"Fracking Governance: History, Differences, and Trends," (with J.D. Graham), Environmental Impacts from the Development of Unconventional Oil and Gas Reserves, (J. F. Stolz, W.M. Griffin, and D.J. Bain eds.), Cambridge University Press, Cambridge UK (2021)

"A novel multi-technique approach used in the petrophysical characterization of the Maquoketa Group (Ordovician) in the southeastern portion of the Illinois Basin: Implications for seal efficiency for the geologic sequestration of CO2," (with C.R. Medina, M. Mastalerz, and R.W. Lahann), International Journal of Greenhouse Gas Control, v. 93, 102883 (2020)

"Job creation in the U.S. 'shale gale,'" (with K.B. Belton) Insight into Manufacturing Policy, Manufacturing Policy Initiative, O'Neill School of Public and Environmental Affairs, Indiana University, (October 2019) 

"Public Opinion toward Hydraulic Fracturing: The Effect of Beyond Compliance and Voluntary Third-Party Certification," (with M.H.W. Lee, A. Clark, D.C. Wietelman, and J.D. Graham), Journal of Energy Policy, v. 128, p. 306-315 (2019)

"How Do Incentives Influence Local Public Support for the Siting of Shale Gas Projects in China?" (with Y. Zhang, S. Clark, and J.D. Graham), Journal of Risk Research, v. 23, issue 3, pp. 330-348 (2019)

 "Fault angle control on potential seismic slip in the Illinois Basin region," (with S.L. Letsinger and G. Carlson), Seismological Research Letters, v. 89, no. 6, pp. 2461-2472 (2018)

"The Effect of Community Reinvestment Funds on Local Acceptance of Unconventional Gas Development," (with N. Paydar, O. Schenk, A. Bowers, S. Carley, and J.D. Graham) Economics of Energy & Environmental Policy, Volume 5, Number 1, pp. 131-156 (2016)


"State regulation of unconventional gas development in the U.S.: An empirical evaluation," (with N. Zirogiannis, J. Alcorn, S. Carley, and J.D. Graham) Energy Research and Social Science, Volume 11, pp. 142-154 (2016)