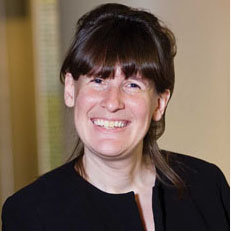 Phone:

(812) 855-4517

Email:

afbowers@indiana.edu
Research areas:

Methods Econometrics and Data Management

Areas of Interest:

Survey methodology
120 Morrison

Education
M.S., University of Maryland, 1998
B.A., University of North Carolina, 1995
Courses
SPEA V450: Introduction to Survey Research
SPEA V550: Survey Research
Biography
Professor Ashley Clark teaches and conducts research on survey methods and serves in a lead methodologist and applied statistician role on research studies. Her primary research interests include survey error and survey operations.

Prior to joining IU in 2011, Clark spent more than 15 years directing survey operations and leading survey research studies at the University of Michigan and the University of North Carolina. Clark has conducted research on attitudes toward shale gas development as part of O'Neill's Shale Gas Working Research Group and has co-authored articles on public support for road mileage user fees with O'Neill colleagues Denvil Duncan and John Graham. She served as sampling statistician and methodological consultant for a 2013 book co-authored with O'Neill colleague Beth Gazley: What Makes High-Performing Boards: Effective Governance Practices in Member-Serving Organizations. Clark's research on nonresponse error and interviewer turnover has been presented at the American Statistical Association's Joint Statistical Meetings and the American Association for Public Opinion Research Conference.

Clark directs the Center for Survey Research, a research facility of the Office of the Vice Provost for Research. The Center provides research design and data collection services for academic, nonprofit and for-profit clients. She has authored or co-authored several technical research reports at the Center each year. She also provides pro bono research consultation to individuals, groups, and nonprofits in the local community through her survey research class and role at the Center.
Highlights
Director, Indiana University Center for Survey Research
Authored or co-authored 25+ technical survey reports from 2020-21
Provided pro bono research support to 35+ nonprofit organizations and government agencies in Indiana
Designed and co-led IU's Best Practices in Designing and Conducting Quality Research Seminar Series
Indiana University O'Neill School of Public and Environmental Affairs Graduate Teaching Award, 2018
Executive Committee Member, Association of Academic Survey Research Organizations, and Council of Chapters Representative, American Statistical Association