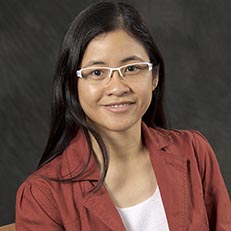 Areas of Interest:

Corruption
Economic Growth
Behavior of Entrepreneurs
Education
Ph.D., Economics, School of Business and Economics/UNU-MERIT, Maastricht University, The Netherlands, 2016
MPA, O'Neill School of Public and Environmental Affairs, IU Bloomington, 2012
BS, Finance and Banking, National Economic University, Vietnam, 2008 (cum laude)
Biography
Thuy Nguyen was a Postdoctoral Fellow at the O'Neill School, where she had been a visiting scholar in 2015 and obtained her MPA in 2012.

Dr. Nguyen specializes in health economics and policy evaluation. Her current research focuses on conflicts of interest in the US health care system, including the role of whistleblower regulations on health care fraud enforcement, the impacts of provider-pharmaceutical relationships on health outcomes, and the impacts of regulations on drug and substance use. Nguyen's research has been published in Small Business Economics, Journal of Risk and Insurance, JAMA Network Open, Addiction, Journal of Substance Abuse Treatment, and PLOS One.

Nguyen completed her Ph.D. in Economics from Maastricht University, The Netherlands. Her Ph.D. dissertation contributed new evidence on the cause of corruption and the measurement validity of corruption perception indexes. She also holds an MPA from the O'Neill School and a B.A. in finance from the National Economics University, Vietnam.

Nguyen has experience working for both private and public sectors as well as in academia. She worked for the Bank for Foreign Trade of Vietnam, then as a researcher at the Ministry of Planning and Investment of Vietnam before pursuing her academic career. She taught several undergraduate-level and graduate-level courses on behavioral economics, research designs, impact evaluation, and econometrics at Maastricht University and Indiana University. Since 2016, Nguyen has conducted a number of policy analyses for the Vietnam Initiatives at IU, a global think tank on development policies for Vietnam.