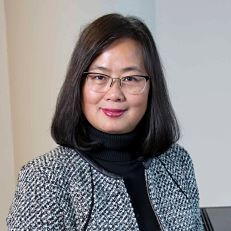 Areas of Interest:

Public Finance
Urban and Regional Economics
International Trade
Economic Development
Public Budgeting and Financial Management
Education
Ph.D., Economics, Johns Hopkins University, 1993
M.S., Economics, Johns Hopkins University, 1989
B.A., English, Beijing Foreign Studies University, 1984
Highlights
U.S. and China public policy expert
Founding Director, Peking University-Lincoln Institute Center for Urban Development and Land Policy, Beijing, China
Professor of Economics, College of Urban and Environmental Sciences, Peking University, Beijing
In the News
"Successful Chinese research center at IU transitioning into a think tank,"IU Inc., April 1, 2015
"Man to Lead IU Chinese Politics and Business Center,"Inside INdiana Business, December 31, 2014
"Property Tax and Impacts on Vacancy" - CCTV (Chinese Central TV), China Business Observe, April 13, 2013
"Dialogue with Professor Karl Case on USA and China housing Markets" - Global Times, August, 2012
"Taxing China: Pay or Play" - The Economist, February 4, 2012.
"China Land Price Fall Threatens Local Finances" - The Financial Times, June 1, 2011.
"Public Debate on Property" - Phoenix New Media, February 12, 2011.
Selected Works
The Future of Public Housing: Ongoing Trends in the East and the West
(with J. Chen and M. Stephens, Eds.). Springer-Verlag GmbH, Germany: Springer (2013)
China's Environmental Policy and Urban Development. Cambridge, MA: Lincoln Institute of Land Policy (2013)
China's Housing Reform and Outcomes. Cambridge, MA: Lincoln Institute of Land Policy (2011)
China's Local Public Finance in Transition (with Y. Hong, Ed.) Cambridge, MA: Lincoln Institute of Land Policy (2011)
Low-Income Housing in China: Current Issues and Policy Design (with G. Long and J. Juan, Eds.) Beijing China: The Commercial Press (2011)
"Taxation and economic performance: evidence from China," (with T. Lang and X. Zheng), The Social Science Journal, 48(3): 553-559 (2011)
"China's housing reform and emerging middle class," China's Emerging Middle Class: Beyond Economic Transformation (C. Li, Ed.). Washington D.C.: Brookings Institution Press (2010)
"Urban location and housing values within a hedonic model," (with J. Ottensmann and S. Payton), Journal of Regional Analysis and Policy, 38(1): 19-35 (2008)
"Valuing the benefits of the urban forest: A spatial hedonic approach," (with G. Lindsey, J. Ottensmann, S. Payton, and J. Wilson), Journal of Environmental Planning and Management,51(6): 717-736 (2008)
Tax Increment Finance and Economic Development: Uses, Structures and Impact (with C. John, Ed.). Albany, New York: State University of New York Press (2001)